With years of experience, we are grown to be the largest Screw Clamp manufacturer in the industry. We offer a range of Screw Clamp including Hand screw clamps, Wood screw clamps, Malleable-cast-iron screw clamps, All-steel screw clamps, Light duty u-style screw clamps, G style screw clamps, F style screw clamps, Edging screw clamps, Rack screw clamps, and more. We manufacture Screw clamps in a variety of sizes, shapes, and other specifications. Our Screw Clamps are highly admired in the market because it clamps effectively and has an excellent size to force ratio. We also provide custom manufacturing for Screw Clamps based on customers' requirements and industry needs. We manufacture and export highly precise Screw Clamps to international markets such as Europe, Germany, Middle East, USA, Australia, UK, Canada, and other European countries.
The Screw Clamp is used to securely attach or hold two or more objects together. A screw clamp is a type of clamp that adjusts its jaws and clamps a workpiece in place using a screw mechanism. A Screw Clamp is a versatile clamp that can be used for applications such as positioning equipment, gluing, painting, and assembling objects. A hand screw clamp is generally utilized for woodworking applications because it has softer jaws than metal clamps.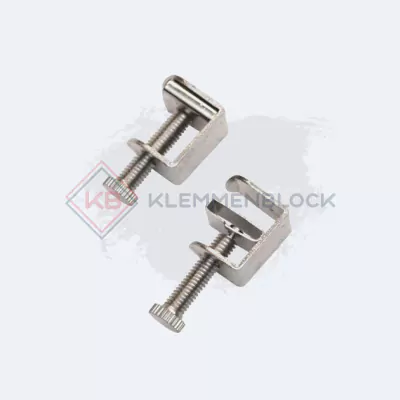 We provide Screw Clamp to our clients with the specifications listed below:
Raw Materials:

Brass:

Free Cutting Brass IS 319 Type (I)
Free Cutting Brass as per BS 249 Type (I)
High Grade Free Cutting Brass
Brass CDA-360
Brass IS-319 Grade III

Copper:

ETP grade copper
Oxygen Free copper
DHP grade copper
Beryllium copper
Tellurium copper
Chromium copper

Aluminium:

Pure Aluminium
Medium strength Aluminium
Versatile Aluminium
Workhorse Aluminium
Aluminium Alloy

Steel:

Carbon steel
Low Carbon steel
Medium carbon steel
High Carbon steel
Tool steel

Stainless steel:

Austenitic Stainless Steel
Ferritic Stainless Steel
Martensitic Stainless Steel
Duplex Stainless Steel
Custom stainless-steel

Supplementary Processes:

Heat treatment: Annealing, Homogenizing, Stress Relieving, Solution Treating, Precipitation & Quench Hardening and Tempering.

Surface finishing: Polishing, Buffing, Etching, Laser Etching, and Electro Polishing.

Welding/Brazing/Soldering: Spot Welding, Projection Welding, Spot Brazing, Flame Brazing, Indirect Brazing, Induction Brazing, Wave Soldering, etc.

Joining: Specialized joining like specialized riveting, spin riveting, interlock by semi shearing, etc.

Size of Screw Clamp:

Various sizes available as Per Customer Specification.

Packing Type:

As per requirements.

Key features:

Strong and sturdy fastening devices.
Suitable for all cross-sections and types of wires.
Wires can be connected without any special preparations.
Vibration proof termination is guaranteed.
Easily connect and disconnect by using an ordinary screwdriver.
High tightening torque because of cold forged rolled threaded screws.
Very low contact resistance.
An excellent vibration proof protection against loosening.
A reliable electrical and mechanical connection.

Industrial Standards:

DIN German Standard, EN European Standard, ISO International Standard, ASTM, ANSI & AISI American Standard, BS British Standard, GOST Russian Standard, JIS Japanese Standard, UNI Italian Standard, SAE Aerospace Standard.
Get Free Quotation for Screw Clamp, you can
Contact us
.