Grounding Terminal Blocks
We manufacture high-quality Grounding Terminal Blocks in variety of sizes and earthing points. Ground Terminal Blocks will provide extra protection to electrical units and individuals from interference such as electrical or magnetic fields. We manufacture Grounding Terminal blocks for different wire ranges. We manufacture Grounding Terminal Blocks with strict quality standards to ensure safe and secure connections. We also provide custom Grounding Terminal Block and manufacture exactly as per the customer's requirements and specifications. We manufacture and export Grounding Terminal Blocks to Middle East, USA, Australia, UK, Germany, Switzerland, Poland, and other European countries.
Grounding Terminal Blocks are used for terminating Grounding / Earthing wires. Grounding Terminal Blocks is an ideal choice for grounding and earthing connection and to protect people & machinery from intrusion such as electrical or magnetic fields. Grounding Terminal Blocks are also referred to as Earthing Terminal Blocks. Grounding Terminal Blocks is used in providing protection in a variety of applications such as Distribution boards Control centers and machine control systems such as ships and power stations. Count on us for Grounding Terminal Blocks.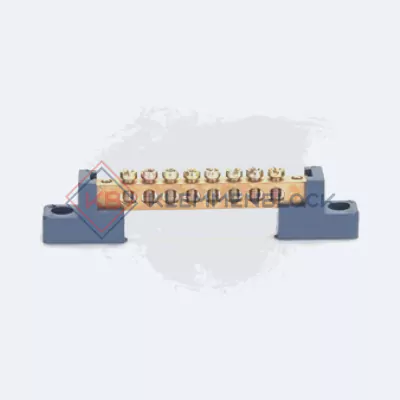 We provide Grounding Terminal Blocks to our clients with the specifications listed below:
Raw Materials:

Brass:

Free Cutting Brass IS 319 Type (I)
Free Cutting Brass as per BS 249 Type (I)
High Grade Free Cutting Brass
Brass CDA-360
Brass IS-319 Grade III

Copper:

ETP grade copper
Oxygen Free copper
DHP grade copper
Beryllium copper
Tellurium copper
Chromium copper

Aluminium:

Pure Aluminium
Medium strength Aluminium
Versatile Aluminium
Workhorse Aluminium
Aluminium Alloy

Steel:

Carbon steel
Low Carbon steel
Medium carbon steel
High Carbon steel
Tool steel

Stainless steel:

Austenitic Stainless Steel
Ferritic Stainless Steel
Martensitic Stainless Steel
Duplex Stainless Steel
Custom stainless-steel

Supplementary Processes:

Heat treatment: Annealing, Homogenizing, Stress Relieving, Solution Treating, Precipitation & Quench Hardening and Tempering.

Surface finishing: Polishing, Buffing, Etching, Laser Etching, and Electro Polishing.

Welding/Brazing/Soldering: Spot Welding, Projection Welding, Spot Brazing, Flame Brazing, Indirect Brazing, Induction Brazing, Wave Soldering, etc.

Joining: Specialized joining like specialized riveting, spin riveting, interlock by semi shearing, etc.

Size of Grounding Terminal Blocks:

Various sizes available as Per Customer Specification.

Packing Type:

As per requirements.

Key features:

Interchangeable with standard terminal blocks.
Easy operation and use.
Excellent electrical characteristics even at high temperatures.
Strain-crack and corrosion proof.
Available in an easily identifiable colour code.
Modular expansion.
Facilitate safe and efficient termination.

Industrial Standards:

DIN German Standard, EN European Standard, ISO International Standard, ASTM, ANSI & AISI American Standard, BS British Standard, GOST Russian Standard, JIS Japanese Standard, UNI Italian Standard, SAE Aerospace Standard.
Get Free Quotation for Grounding Terminal Blocks, you can
Contact us
.